175 anniversary of Relief Society:
On Saturday, we had a Relief Society activity celebrating the 175th anniversary. We started out hearing from some of the sisters who spoke about the importance of Relief Society and visiting teaching. There was one sister's experience that really stuck out to me. This particular sister and her family travel around a lot, moving from country to country. A few years ago, they lived in central Africa and were the only members in the entire country. THE ENTIRE COUNTRY. Before that time, she never really thought of herself as someone who needed others help. But, when she was there....she felt different. She was in a lot of ways
alone.
She said she didn't have as many friends, she didn't have spiritual support when she needed it, etc. She didn't realize how much she relied on the small and simple acts of other sisters in past wards. She promised herself that when they left central Africa, that she would never feel that way again--and to do her best to make sure nobody else feels that way, too. In Poland, there aren't a
ton
of sisters...but certainly more than just herself. She feels that through genuine friendship, service, and concern...we, as SISTERS, can be unified and strengthened together.
Idz Za Prorokiem:
....aka: "Follow the Prophet". This month's theme in Primary is Follow the Prophet! Yesterday, we talked a lot about conference and what we can do to prepare. So, I encourage you to do the same! Go into conference with questions! Go into conference with an open heart! See how you can improve! I promise you will receive answers.
Other:
-Our university English is still a hit!! (pics below). We are already seeing miracles galore because of this opportunity.
-I put my city league skills to use and beat Bart in PIG.
-There was a YSA conference in Warsaw this week. It was so awesome to meet all of the YSA's from all over Poland and do a finding activity with them.
The sun is out...and I am HAPPY! God is good.
Have a great conference weekend! Eat some cinnamon rolls for me.
xoxo,
ul. Wiertnieza 135,
1
Pietro
02-952 Warszawa Poland
telefon: 48-22-665-9892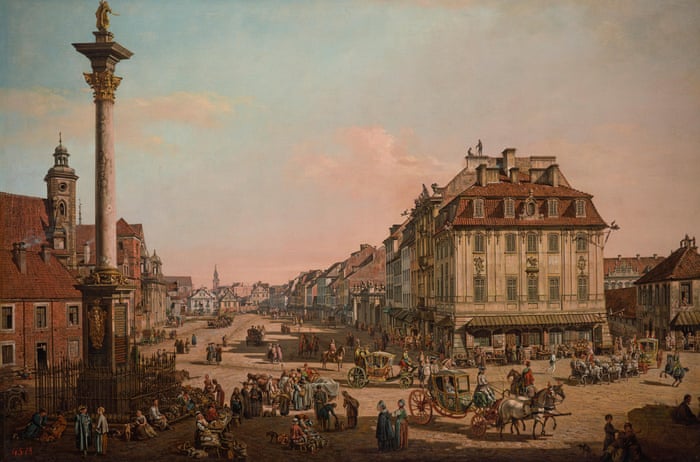 Bernardo Bellotto's 18th century paintings of Warsaw were used to rebuild the city following
its destruction in the second world war.
Old Town Poland. Most of Warsaw was destroyed during the war but they rebuilt parts of the city--so this "Old Town" is actually not as old as it looks.
"There are various legends about the Warsaw mermaid. The main one used in the City's literature and by tour guides says that the mermaid was swimming in the river when she stopped on a riverbank near the Old Town to rest. Liking it, she decided to stay. Local fishermen noticed that something was creating waves, tangling nets, and releasing their fish. They planned to trap the offender, but fell in love with her upon hearing her singing. Later, a rich merchant trapped the mermaid and imprisoned her. Hearing her cries, the fishermen rescued her, and ever since, the mermaid, armed with a sword and a shield, has been ready to help protect the city and its residents.
Another legend states that she assisted a prince when he got lost hunting and he founded the city in her honour."
Overlooking Warsaw from Stalin's Tower.